Statin Brand Names
There is also Vytorin which is a combination of simvastatin and ezetimibe. Ezetimibe is not a statin, but a drug that inhibits absorption of cholesterol in the digestive system. Merck sells Vytorin and has been promoting it since the patent on Zocor expired.
A recent study showed that Ezetimibe combined with Rosuvastatin reduced cholesterol levels even more - indeed the biggest reduction ever found in a serious study. Ezetimibe is marketed by Merck and Schering-Plough under the name Zetia, and outside the United States under the name Ezetrol.
More on generics.
Popularity of statin medications.
Niacin is also used to treat cholesterol but it is not a statin drug.
Read Now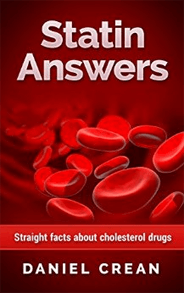 Statin Answers: Straight Facts About Cholesterol Drugs
Learn about the side effects and benefits of statin drugs that millions of people take to control their cholesterol. Statin Answers presents scientifically grounded, yet easy-to-understand facts about these drugs. Read all sides of the ongoing debate within the medical community debate about who should take these medications and whether the costs exceed the benefits.
Read Now