Pitavastatin
Pitavastatin (brand name Livalo) started being sold in the United States in 2010. It has been on the market in Japan for years, and the U.S. drug company Eli Lilly acquired the rights and secured FDA approval to sell pitavastatin in the United States. The US patents is due to expire in 2024.
Many are skeptical of the prospects for this medicine's commercial success, given that there are many other statins on the market. Pitavastatin might have fewer side effects in some patients. Pitavastatin is not metabolized as readily as other statins are, and therefore stays in the body in active form longer and is more bioavailable. A Japanese study suggests pitavastatin may offer improved myocardial protection than other statins,
Lilly says it should produce a lower risk of drug-drug interactions, which preclude some patients from taking a statin. Pitavastatin has been shown to be especially tolerable and safe in elderly patients in clinical trials. It is sold in pills of strength 1 mg, 2 mg, and 4 mg.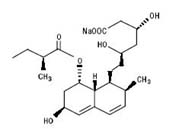 Facts
Formula: C50H46CaF2N2O8
Category: semi-synthetic, Type I
Manufacture: fermentation
Introduction: 2003, 2009 in US
Brands: Livalo, Livaz r
Research
Pitavastatin for the treatment of primary hyperlipidemia and mixed dyslipidemia.
Comparison of pitavastatin with simvastatin in primary hypercholesterolaemia or combined dyslipidaemia.
New evidence on pitavastatin: efficacy and safety in clinical studies.